CRO & Vendor Selection
Selecting CROs and vendors with the essential expertise who also align with your company's values and culture.
Unlock the full potential
of your partnerships
We guide you through the critical and complex process of CRO and vendor partner selection, with our rigorous approach driven by data, quality, and cultural consideration. We facilitate the process, so you can make an informed and empowered decision.

Achieving Your Timelines
Focus on achieving your critical timelines while we provide you with the key insights, data analysis, and information you need to make your selection decisions.

Ensure Compliance
We create an auditable process, documenting all necessary files and decision-making processes, so you are and remain ICH GCP E6 (R2) compliant.

Comprehensive Comparison
As an independent and external partner, we gather true insights to give you a comprehensive and diverse list of potential vendors, facilitating direct comparison for your decision-making.
Driving your partner selection
Our expert consultants lead your team through the comprehensive selection process, providing data-driven reports, insights, and documentation so you can keep your investors and board updated on all critical decisions.
We work as an extension of your team to identify, evaluate, and select the CRO or vendor for your clinical trial program while ensuring you have an auditable process in place and are ICH-GCP E6 (R2) compliant.
After the selection, we'll facilitate the start of your new CRO/vendor relationship, bridging the gap to assure a smooth project start-up.
Why the Seuss+ way matters
In-Depth Data & Reports
The depth of our RFP analysis and data gives you valuable and detailed insights for your selection process.
Our in-depth RFP reports illustrate the strengths and weaknesses of each vendor, providing a detailed strategy and comparative budget overview in order to strategically shortlist.
Relationship Management
Keep your relationship intact, while we, as an external party, do the heavy lifting, challenging the assumptions and commercial terms.
We manage emotions in the process, bring effective strategies and tactics in contract negotiation and formation to ensure clear expectations.
What to expect
Our comprehensive process equips you with tools and insights, guiding you towards the organization and people whose strategy, capabilities, and culture can deliver on your future vision.

Alignment Meeting
We kick off the project with a workshop designed to help your team formulate and define the key selection criteria.

Market Scan
Through in-depth market research, we identify vendors who match your specific criteria for your RFP process.

RFP Creation
We create a tailored RFP based on the study synopsis, selection criteria, and insights gathered in previous steps.

RFP Analysis
After vendor responses are collected, we analyze and compare strategies, timelines, and cost structures to help you make better decisions.

Bid Defense
We organize and facilitate your bid-defense meeting, where defined exercises ensure reliability from the vendor candidates.

Contract Negotiation
With our guidance and commercial experience, we promise to get you the best terms and conditions in your new partnership.
Success Stories
Client impact and sharing experiences.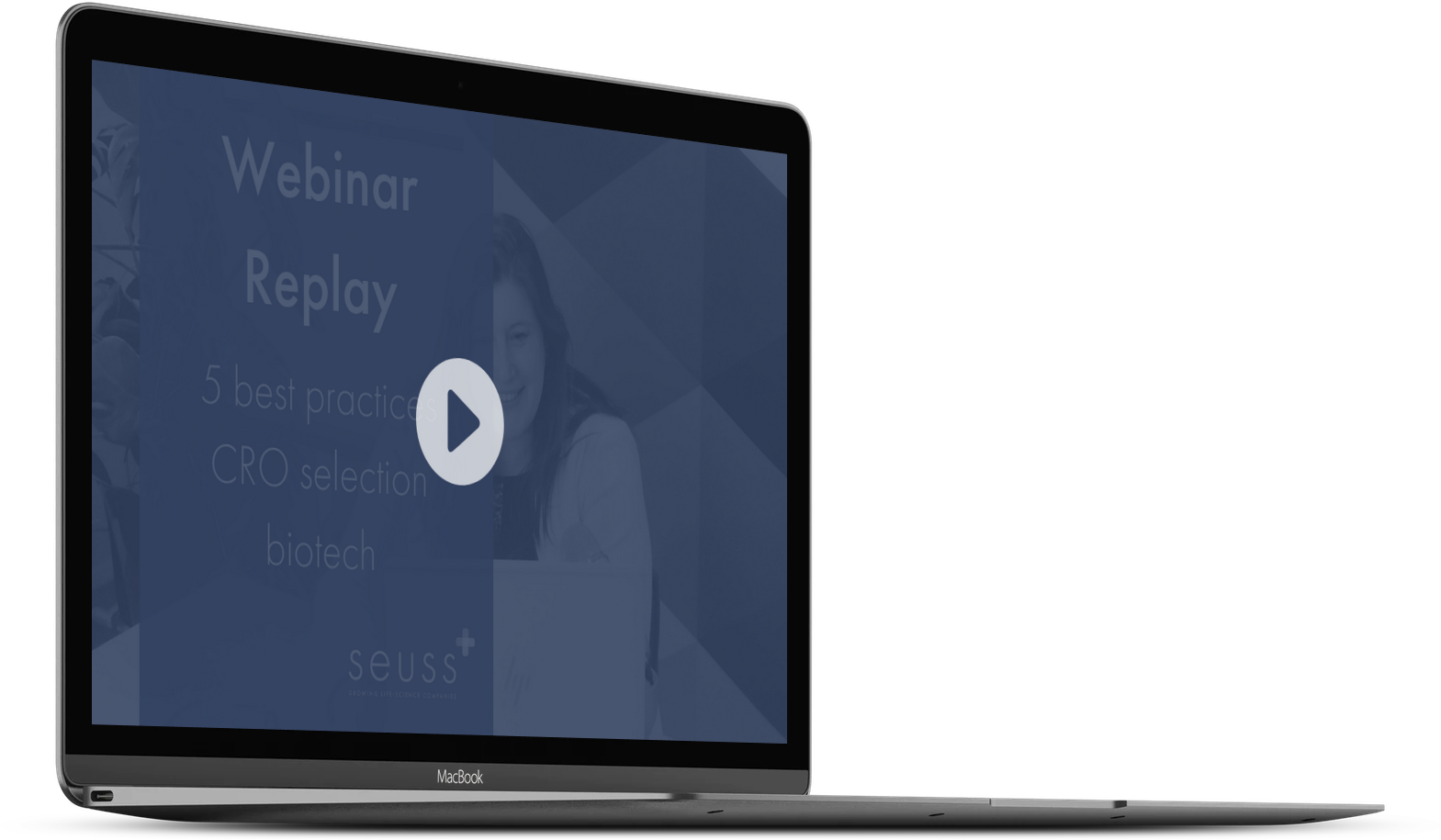 Webinar Replay: 5 best practices in CRO selection for biotech
Watch our free webinar replay and discover the 5 best practices of how to select the optimal CRO for your clinical trial success.
"The team provided excellent and professional support during our vendor selection process. The combination of deep industry experience, operational knowledge combined with an excellent network to draw upon allowed us to make the final vendor selection decision on a very strong and thoughtful decision foundation."
I'm Alex, Senior Business Analyst at Seuss+
I'd like to get to know you and your business. I am ready to answer your questions and start tackling your business challenges.