CRO & Vendor Selection is complex for Biotechs – Seuss+ can help
Select suppliers that help your Biotech succeed
End-to-end Procurement Services
Our proven formal selection process enables you to make informed and unbiased decisions on partnerships that ensure compliance.
We facilitate and drive a comprehensive document-driven CRO or specialty supplier selection process, which includes alignment meetings, market scans, RFP creation, analysis, evaluation, and bid defense.
With our process, you'll get:
a level playing field that has the potential to discover new vendors that fit
a focus on hyper specific criteria combined with your company culture fit
complete compliance and mitigated risks
continued focus on your core business
an abundance of comparative data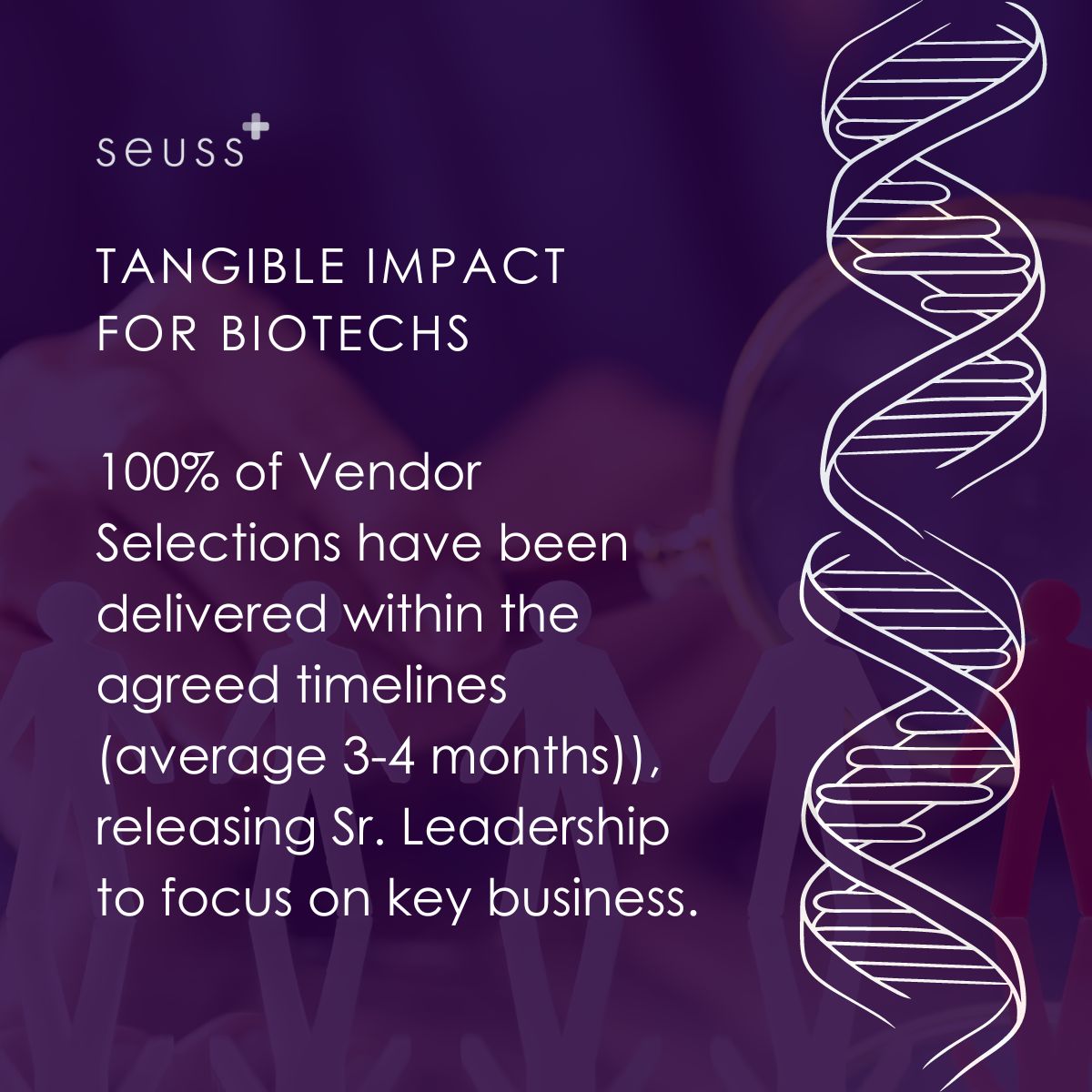 Benefit from our unrivalled experience
We conduct market scans (RFI) and supplier selections for a wide variety of organizations following a formal process to ensure maximum quality and speed. We have experience with sourcing suppliers like these.

Full service CROs
We know the ins and outs of the complex CRO selection process and can help, whether you are a large biopharma or a small one poised to initiate clinical trials.

Specialty Providers
We are experienced in facilitating vendor selections in biostatistics, auditors, legal, regulatory, and more speciality providers.

Digital technology
We have extensive experience in selecting digital technology vendors for eCOA/ePRO, EDC, eTMF, eISF, eQMS, wearables, and more.

Medical call center
Our experienced team collaborates with specialized providers offering communication and support services to healthcare and life science organizations. To enhance the patient experience, streamline processes, and boost organizational effectiveness and productivity.

CMC Suppliers
We can source CMC (chemistry, manufacturing, and controls) suppliers such as drug substance, drug product, and packaging.

Logistics Suppliers
We have experience with outsourcing logistics companies (e.g., warehousing, picking, packing, and shipping).

Lab Suppliers
We help find the best-fit lab suppliers. We have experience running vendor selections for central lab, bioanalytical, immune monitoring, etc.
Learn from our CEO, Kieran, about selecting the best-fit CRO for your biotech company to drive success in your clinical trials.
Digital Innovation Landscape Assessment
System: Aligning your goals with your current or prospective system to highlight areas where there can be improvements to your operational efficiency, user experience or participant compliance, ensuring you have access to the right data when you need it. Technology may include: eCOA/ePRO, EDC, eTMF, eISF, eQMS, eConsent and more.
Digital technology: Assessing the opportunities where you can add value to your pipeline and clinical trials with innovative technology. Technology may include: artificial intelligence, real world data (RWD), digital endpoints, big data analytics, digital twins and more.
Benefits:
Inspire your team

Adopt high-value technology
Ensure your clinical trials are effective, engaging and efficient
May Include:
Research on current trends and opportunities

System Architecture Map

User experience insights

Documentation to show the technology is fit-for-purpose
A change is on the horizon. Digital innovation for life sciences
Vendor and Sponsor Study Team Dynamics Workshop
The Vendor and Sponsor Study Team Dynamics Workshop is an essential service for life science companies looking to optimize their clinical trial processes. This comprehensive workshop is designed to facilitate better communication, collaboration, and operational alignment between vendors and sponsors, ensuring that teams are well-equipped to meet the demands of upcoming trials. By focusing on individual behavior patterns, team dynamics, and the critical initiation of vendor partnerships, the workshop sets a solid foundation for success through shared understanding and strategic foresight.
Includes:
Analyzes team challenges and organizational alignment
Maps individual behaviors and workplace dynamics
Interactive exploration of team dynamics
Kick-off workshop for vendor-sponsor alignment
Practical exercises for team performance enhancement
Benifits:
Fosters enhanced team collaboration
Aligns project management with goals
Proactively resolves team conflicts
Streamlines clinical trial team workflows
Improves team cohesion and industry adaptability
"Duration and topics discussed were perfect!"
Discover our formalized vendor selection process
We have a proven, multi-dimensional supplier selection methodology. While we facilitate the entire process, you'll be equiped with the tools and insights you need to make an informed and data-driven decision on your new vendor. 
Comprehensive
Comprehensive knowledge of the CROs and industry best practices help you quickly and efficiently narrow the universe of vendors.
Tailored
Solutions are not one-size-fits-all. A customized RFP gives you a complete picture of the relevant vendor landscape to your study.
Informed
Thorough analysis and scoring of RFP responses, coupled with strong CRO and vendor knowledge, identify the strongest candidates to participate in bid defense.
Unbiased
Unbiased and comprehensive due diligence – including vendor risk analysis, pricing, and contract negotiations – means you will find only the most suitable solution for you.
Seuss+'s CRO and vendor selection solutions include facilitation of the entire process, using a formal selection process and each offering uniquely contigured to each client's specific vendor requirements and project objectives. Here are some related services:
Schedule a consultation now