Learning and Development for Life Science Organizations
Tailored Training and Development that goes far beyond mere knowledge transfer to drive real change
Learning and Development for Life Sciences
Our Learning and Development solutions for life sciences are designed to bridge gaps, bolster skills, and spark innovation within your life science organization. Our business consultants and expert trainers, each a master of their respective domains, craft a unified learning path tailored to the unique demands of your life science teams. This targeted educational approach aims not only to enhance knowledge but also to inspire collaboration and instill a pervasive culture of innovation across your company.
At the heart of our programs lies experiential training that goes beyond mere knowledge transfer. We create training experiences that build common goals, enhance communication, and deepen understanding among team members. This cohesive learning fosters seamless collaboration across departments, locations, and time zones, ensuring that every member of your team is synchronized and moving forward together. Our workshops and training programs are specifically designed to tackle the industry-specific challenges of clinical trials and product development, equipping your teams with the tools to overcome barriers to change and foster a resilient culture of innovation. 
What you can expect:
learning needs assessments
a complete training concept with an executable plan
tailored training program content
design and implementation of 1-1 and team coaching
individual and team Predictive Index behavioral analysis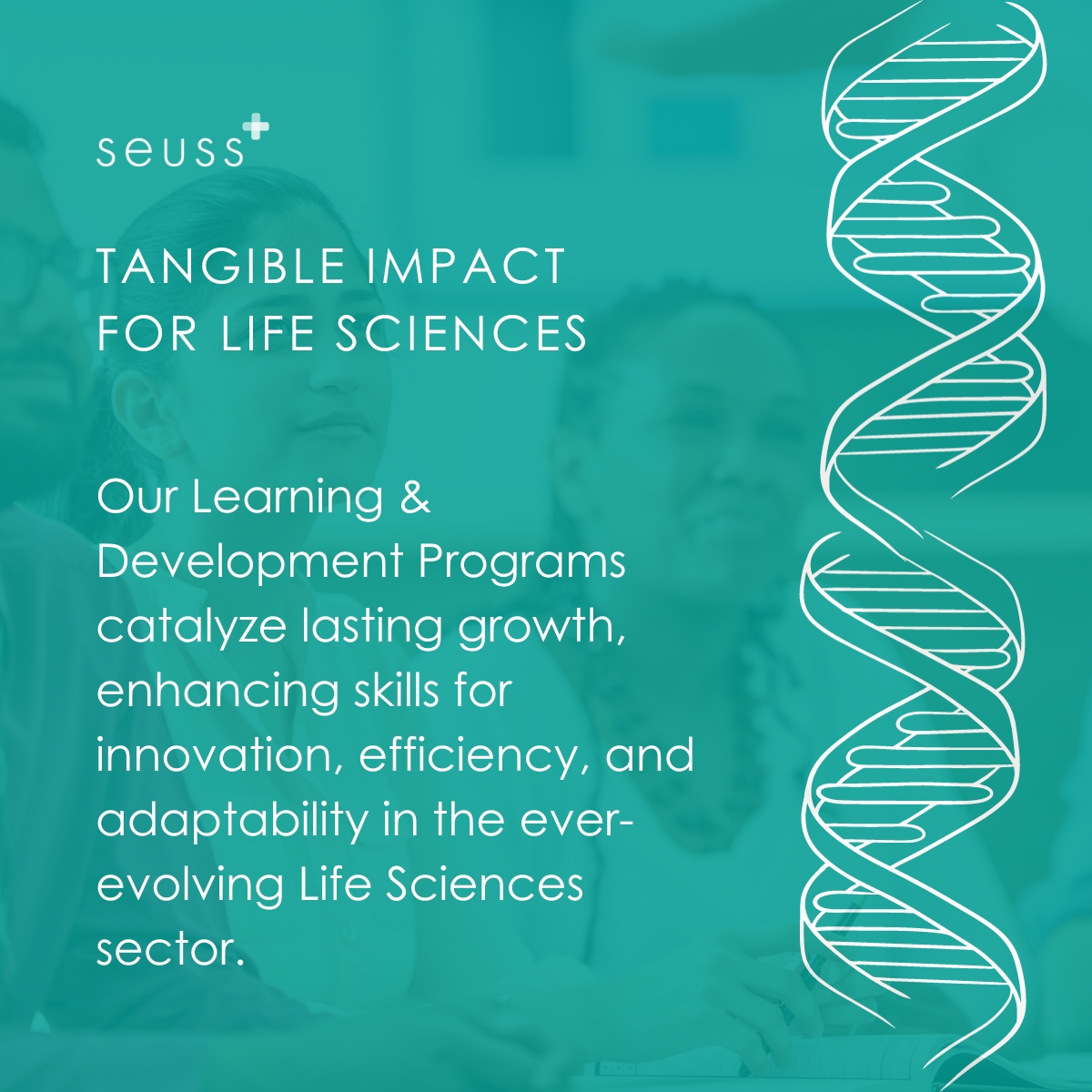 Empower and Transform Organizations with Tailored Learning Programs
We craft and deliver bespoke Life Science Learning and Training programs with a strategic embedding approach to drive high-performing teams and innovation. Whether delivered virtually or face-to-face, these programs are tailored to foster a growth mindset and ensure lasting impact. Our expert trainers deliver essential theory, complemented by experiential learning, which actively involves participants, ensuring that new skills are not only learned but applied and retained.
With our training program methodology, you can expect a transformative learning experience that aligns with your company's unique culture and drives sustainable growth and collaboration.
Benefits:
Tailored experiential training programs

Virtual and face-to-face delivery

Integrated coaching for lasting impact
Data-driven, customizable learning insights
You get:
Drives team performance and innovation
Equips leaders for change and uncertainty
Boosts commercial effectiveness
Supports sustainable organizational growth
Enhances motivation and skill transferability
Learning & Development: Critical Elements to Achieve Success for Small and Growing Biotechs
Elevate Your Leadership to lead with impact
Our Leadership Development Program is meticulously designed to hone the skills of leaders at every level. From cultivating personal mastery to guiding others and orchestrating effective team dynamics, this program offers a comprehensive approach to leadership.
Participants will embark on a transformative journey starting with 'Leading Self'—focusing on self-awareness and personal brand building, progressing through 'Leading Individuals'—enhancing one-on-one communication and decision-making, and culminating in 'Leading Teams'—where the art of fostering collective action is mastered. This program is the catalyst for unlocking the full potential of leaders, enabling them to exert influence and make a positive impact within their organizations.
Benefits:
Develop successful, empathetic leaders equipped for change
Enhance individual leadership for productive conversations
Forge strong, collaborative teams for improved action
Participants will learn:
Strategies for building a personal brand
Techniques for managing emotions and bias
Keys to effective decision-making and trust-building
Tools for managing difficult conversations and feedback
Insights on leading powerful meetings and influencing outcomes
Persuasion skills for success across all levels of interaction
Elevate our client's female leaders and support them with individual gravitas
Sales Training Program to boost commercial effectiveness
Elevate your team's sales acumen with our comprehensive Sales Training Program, designed to sharpen the skills necessary for mastering the client journey and account management. From the initial handshake to closing deals, this program covers every angle of the sales process.
We start with 'Winning Deals', where your team learns bid defense, negotiation, and strategic planning. 'Build and Represent' takes your team through the fundamentals of building robust supplier relationships and adapting to different audiences. And 'Individual Skills' is all about personal growth, empowering your team members to build their brand and enhance their communication and feedback skills.
Benefits:
Strengthen bid defense and negotiation techniques
Enhance relationship-building and networking skills
Develop a strong, impactful personal sales brand
Participants will learn:
Techniques for effective client empathy mapping
Strategies for cultural awareness in sales
Insights on asking the right questions to close deals
Methods to manage customer perceptions effectively
Training to handle feedback constructively
Sales training program and 1-1 coaching that improved BD performance
Discover how our bespoke Learning and Development solutions can pave the way for sustainable growth, enhanced teamwork, and groundbreaking advancements in your field. Here are some related services:
Schedule a consultation now