Life Science Marketing, Brand, and Strategy Development
Helping biotechs and CROs evolve their brands, differentiate their position, and expand market reach
Strategic life science marketing to authentically stand out
By leveraging the power of specialized life science marketing tailored specifically to your business's unique challenges and opportunities, you can effectively communicate your value, build a strong reputation, and establish meaningful connections with your audience.
Whether it's promoting innovative research, cutting-edge medical devices, or breakthrough pharmaceuticals, we offer 3 key services to propel your brand forward. 
What you can expect:
empower your brand with market research and audience insights

unlock your uniqueness with strategically aligned messaging

future-proof growth with strategic planning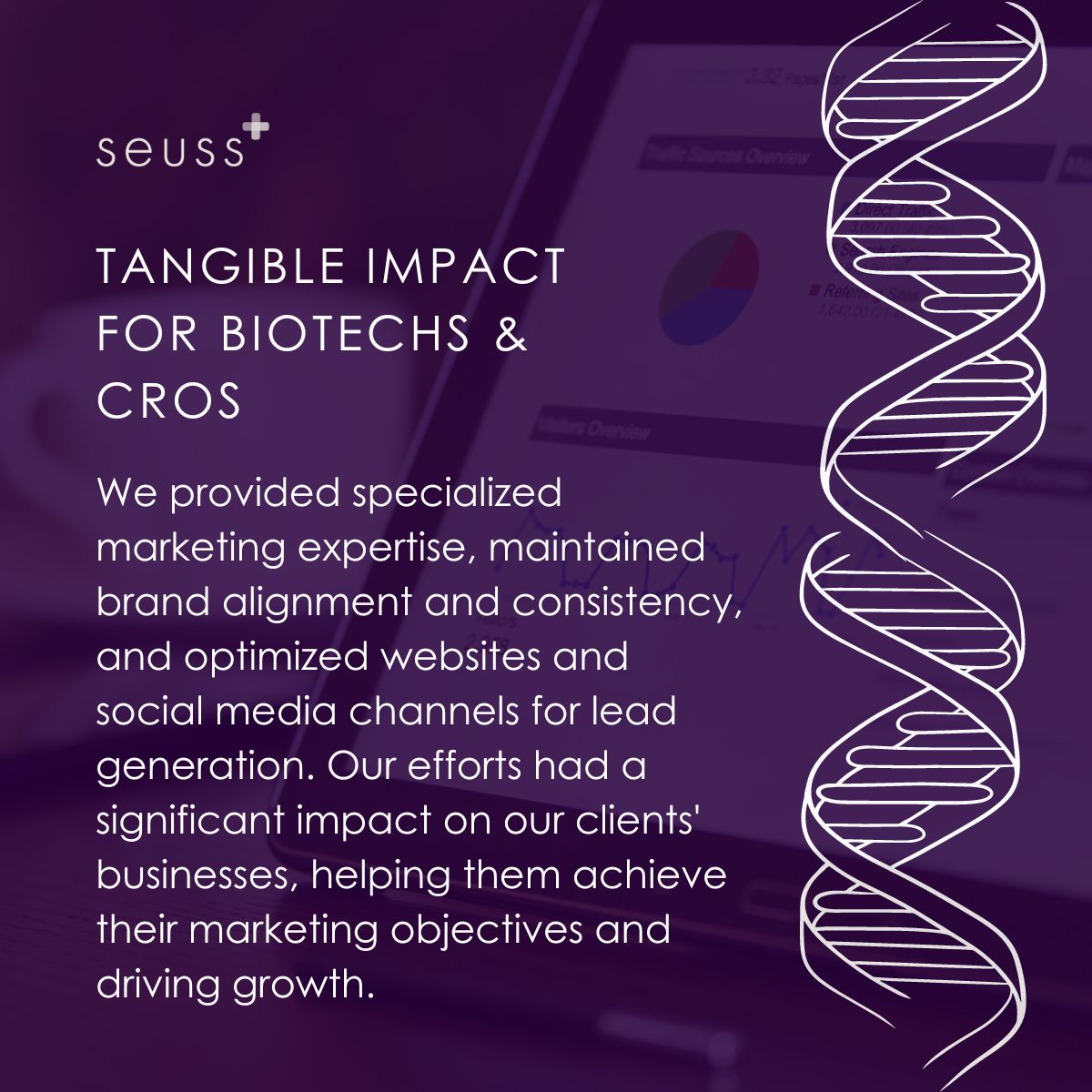 Development of brand, strategy, and value proposition
Life science companies tend to be notoriously cautious about branding and marketing, and some may mistake a website and logo for a strong brand. To secure long-lasting business growth, targetting the right audience with an intentional brand strategy that is simultaneously intertwined with commercial drivers is essential.
We provide all-inclusive brand development. Unlike your average branding agency, we combine our marketing and brand expertise with unsurpassed life-science knowledge to get you real results and market reach, catered specifically to your unique business and relevant in your market.
Your brand is more than a logo, and Seuss+ will help you discover, craft, and articulate your foundational brand DNA and your story, inspiring and aligning your organization for the future. 
Benefits:
we know your audience
future-proofed brand strategy that drives long-term ambition
our experts identify your genuine USP (unique sales proposition)
our marketing SMEs are experts in life science 
a tailor-made approach as no brand is one-size-fits-all
You get:
strategic brand dna: mission, vision, values, and more 
unique marketing position
marketing materials, brand guidelines
inspiriational story and messaging
your genuine USP (unique sales proposition)
Marketing Best Practices for Life-Science Organizations
Website and content develpment to bring your brand to life externally
Your online presence is your virtual front door to the world. What you say and how you look is a direct reflection of your life science organization. We translate your brand strategy and incorporate it into a visually compelling website. Your website then becomes the flagship online presence for your brand.
A well-crafted and fit-for-purpose website is key to communicating your company's position online. 
Benefits:
Improved online visibility and exposure

Increased traffic from search engines through SEO optimization
responsive design for a seamless user experience on all devices
engaging and informative content to attract and retain visitors
You get:
scoping content needs
life science expert copywriter 
web design
complete development of front and back end, testing, and rollout
SEO foundation
Find out how we helped a CRO looking to expand internationally
Marketing operations and ad hoc support
We function as your outsourced marketing team. Our marketing specialists will create an operational strategy for marketing and execute it for you as well. ​
You get a dynamic and life-science specialized marketing team to strategize, activate, and report on your expanded brand reach. 
First, our marketing team develops your content strategy and marketing plan which is aligned to your brand. Next, we support your marketing team with training (or act as your team) to write, design, and execute your content plan. Finally, you'll get a monthly marketing report and call with your dedicated strategist.
Benefits:
eliminates the need to hire marketing personnel
benefit from our expertise and efficiency

fresh perspectives and innovative ideas from external specialists

faster execution of marketing strategies and campaigns

reduced training and onboarding time, as the outsourcing team is already skilled
You get:
a tailor-made solution
yearly strategy-only option available if your in-house team will execute
social media content and posting
curated content including images
monthly reporting
Get our brand and marketing glossary for life-science organizations
eBooks 
Whitepapers
Webinars 
Thought leadership
Interactive content
Video production
Brand photoshoot
Flyers and collateral
Conferences and Events
Infographics
Presentations
Pitch decks
Marketing campaigns
Paid ads / PPC (e.g. AdWords, LinkedIn)
Website Search Engine Optimization (SEO)
CRM setup and implementation
Marketing automation
Seuss+'s marketing, branding, and differentiation solutions help you to stand out in a crowded life science marketplace. Here are some related services:
Employer brand strategy (EVP)
Schedule a consultation now