Risk Management Services For Biotechs: Empowering Excellence
Streamlined SOPs, GDPR Compliance, Proactive Risk Mitigation, and Strategic Trial Governance for Unparalleled Success in your Clinical Trials
Safeguarding your clinical trials with compliance and risk mitigation
We cover the complete range of services designed to safeguard your clinical trials and ensure compliance at every step of the way. With our dedicated focus on risk assessment and mitigation, you can trust us to navigate through potential challenges and deliver successful outcomes for your trials. At Seuss+, your trial's success and safety are our top priorities.
Our team can design and review SOPs tailored to your organization's specific requirementse, ensuring a consistent approach to your clinical trial activities. With over two decades of quality management expertise, we streamline and customize your QMS and SOPs for consistent ways of working. 
Ensure GDPR compliance with our pragmatic and effective Audit and Implementation services, guiding you through a two-phase process to meet and maintain all regulatory requirements.
Safeguard patients and your trial with our proactive Risk Management approach, efficiently identifying, tracking, and mitigating potential risks before they impact your trial and patient safety. Moreover, our expertise in Clinical Trial Governance & Vendor Oversight lays a strong foundation for a successful and strategic sponsor-supplier relationship.
At Seuss+, we are your partners in excellence, empowering your clinical trials for success at every turn.
With our services, you'll get:
Tailored SOPs for compliance and consistency in clinical trial activities
GDPR compliance made simple and effective
Proactive risk management to safeguard patients and trial success
Strategic governance and oversight for long-term sponsor-supplier relationships
Empowering excellence in clinical trials for unparalleled success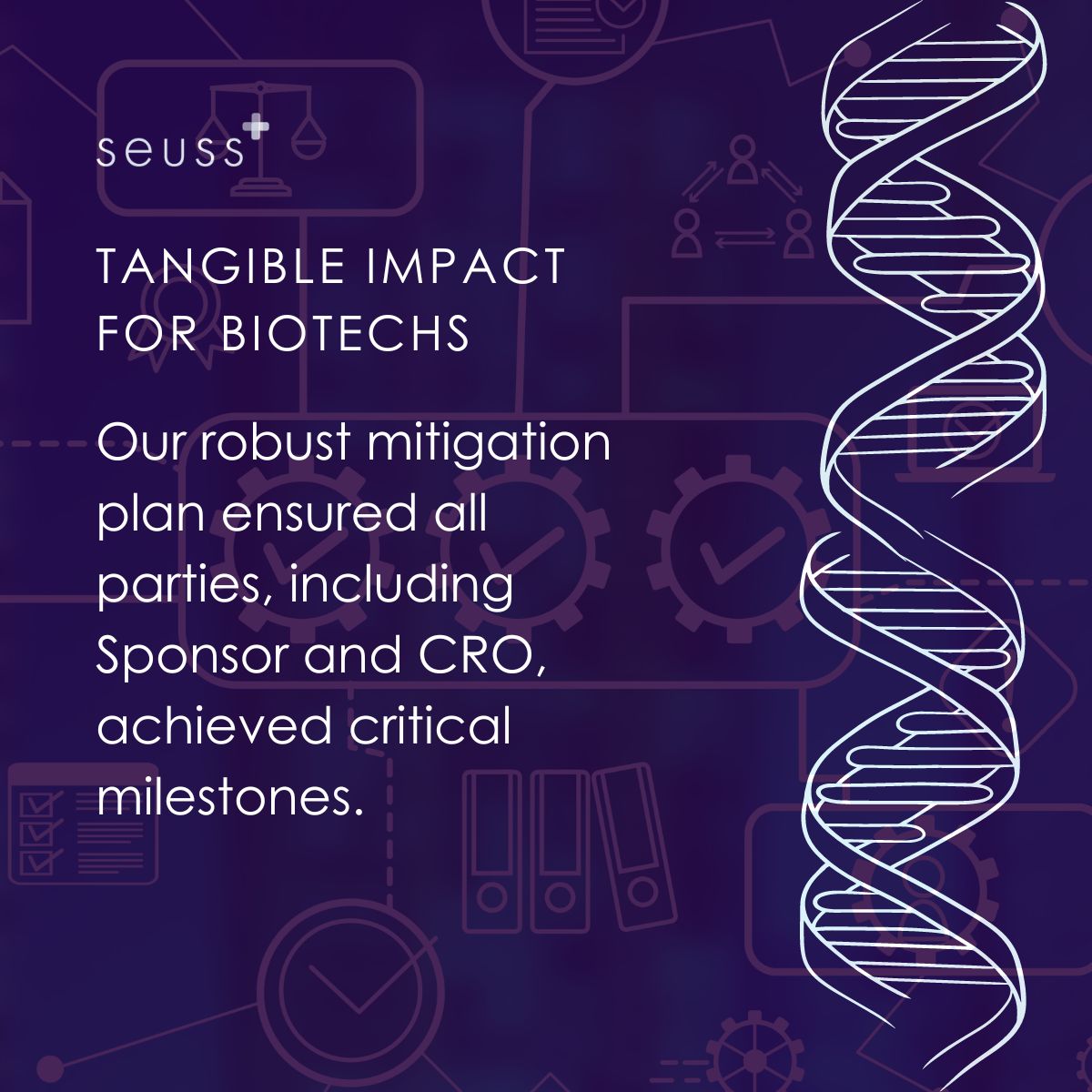 Create and Tailor SOPs (lean QMS)
We specialize in the development of fit-for-purpose Standard Operating Procedures (SOPs). With an experienced team at the helm, we design and review SOPs tailored to your organization's specific requirements, ensuring a consistent approach to your clinical trial activities. SOPs play a vital role in guaranteeing consistent ways of working, from vendor selection, oversight and Governance to GDPR, IT and training.
Leveraging over two decades of expertise in clinical research quality management, we assist you in creating a Quality Management System (QMS) that embodies the 'quality by design' principle of the newest GCP regulations. Our tailored approach ensures that while you concentrate on study start-up and patient enrollment, we provide the foundational QMS to keep operations seamless.
Benefits:
Enables you to focus on execution of your clinical trail while we establish your QMS.
Lays the groundwork for organizational growth and facilitates new staff onboarding.
Avoiding compliance risks through effective issue escalation to decision-makers, ensuring swift responses.
Short, to the point description of procedures to build upon your knowledge and experience, trusting on your compliant behaviour.
Prepares your organization to be audit-ready at any given moment.
You get:
The advantage of our 20+ years of experience in the field.
Assurance that issues are quickly escalated for fast resolutions.
A consistent approach to all clinical trial processes.
Enhanced team alignment for optimal results.
Risk Mitigation: Audit and implement GDPR across sponsor and trial
We help life-science organizations conduct compliant clinical trials by implementing and maintaining General Data Protection Regulation (GDPR) measures pragmatically and effectively. Our two-phase approach helps you become and remain compliant, from internal GDPR audit to meeting the regulation's full requirements.
Ensuring the privacy of your data subjects when processing their personal and health data is one of the most important things you must do, especially in the industry we operate in. We help you shoulder this responsibility, assessing your compliance level and advising you on needed measures to take for risk mitigation and data protection. Our expertise ensures that your data handling practices align with the GDPR, giving you peace of mind and bolstering trust with your stakeholders.
Benefits:
comply with EU laws

demonstrate accountability

create clarity and transparency
You'll get:
needs assessment
internal GDPR audit
GDPR implementation roadmap
rollout workshop 
Data Protection Officer (DPO) as a service
Create and facilitate risk management process
We help you establish and maintain a proactive risk management strategy, so you can identify, track, and mitigate risks efficiently before they impact your clinical trial and patient safety. We create and facilitate your risk management processes and tools while establishing and documenting your risk management operations.
Benefits:
mitigate risks before they happen

frees up time to focus on the issues and resolutions

ensure your data is complete, accorate, and ICH GCP E6(R2) compliant

enables practive identification of risks to ensure patient's safety

ongoing monthly operations
You get:
an international team of risk assessment consultants
risk prediction, identification, and tracking
partner (CRO/vendor partner) communication
reports to keep key stakeholders informed
ongoing support
reviews of everyting from KPIs to meeting minutes
Prevent problems and mitigate risks with the CAPA process
Setup of governance structure and related compliance documentation
We build and implement a fit-for-purpose governance and oversight structure, ensuring long-term strategic sponsor-supplier relationship success. Our expertise includes effective risk management, promoting transparency and mutual success.
Benefits:
data-driven decisions
maintain quality and compliance in your outsourcing model
100% ready for a real audit
compliance 
target limited resourced better
You'll get:
fit-for-purpose solution
independent QA experts
set of standard processes
vendor management
mock audit 
risk-based approach
performance management
governance and oversight including full documentation, plans, and tools for execution
integration of suppliers as needed
Seuss+'s Compliance and Risk Management Solutions are an empowering suite of services tailored to elevate your clinical trials to new heights of excellence. Here are some related services:
Schedule a consultation now