Life Science Consulting
Our life science consulting and tailored solutions help optimize your clinical trial effectiveness, bring assets to market quicker, and drive your life science company to success.
Holistic solutions that help you solve complex challenges and address business needs.
We offer the complete spectrum of CRO (and specialty vendor) selection, vendor management, governance, oversight, contract negotiations, compliance, risk, marketing, and strategy.
Get in touch today or learn more about the services we offer below.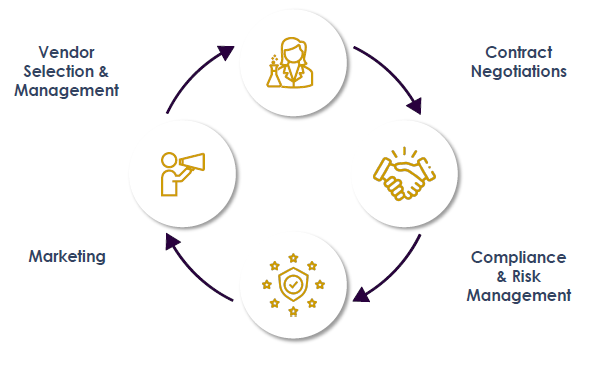 CRO and Vendor Selection
We facilitate and drive a comprehensive document-driven CRO or specialty supplier selection process, which includes alignment meetings, market scans, RFP creation, analysis, evaluation, and bid defense.

Contract Negotiation
We orchestrate a dedicated purpose-built multidisciplinary team of life science subject matter experts to help you to execute contract negotiations between selected vendors for your biotech.

System and Technology Expertise
We offer specialized expertise in system analysis and digital data flow, provide actionable feasibility data for competitive clinical trial landscapes, and serve as subject matter experts for conducting efficient, engaging, and effective clinical trials.

Vendor Management
We drive and document a governance structure, plan and facilitate meetings, provide contract support, and implement reporting, ultimately managing issues and escalations throughout the trial lifecycle.

Compliance and Risk Management
We specialize in developing and customizing Standard Operating Procedures (SOPs) with a lean QMS approach, conducting GDPR compliance audits, facilitating risk management processes, and establishing governance structures and compliance documentation for clinical trials.

Marketing and Brand Differentiation 
We enhance brand differentiation by crafting strategic brands and Unique Value Propositions (UVP), developing a company's core DNA (vision, mission, purpose, values), and creating compelling websites and content alongside comprehensive support in marketing operations.

supported employees in the life science industry
"This organized, dedicated and enthusiastic team goes the extra mile to guide you to a final highly, data-driven decision, which meets your business needs and serves as a strong basis for the conduct and delivery of outsourced trials!"
Webinar: Your Burning CRO and Vendor Selection Questions… Answered
In this lively and candid webinar, Seuss+ CEOs Kieran Canisius and Sabine Hutchison will be joined by Nicolyn Liebenberg, Senior Business Consultant to answer the most frequently asked questions driven by online marketing searches.
Schedule a consultation now