Extend your team with Vendor Management experts
Specializing in vendor management – Seuss+ is there when you need us; we provide ongoing support to manage your critical vendors.
Ongoing Vendor Management support you need when you need it
We drive and document a governance structure, plan and facilitate meetings, provide contract support, and implement reporting, ultimately managing issues and escalations throughout the lifecycle of the trial. 
With our service, you'll get:
implementation and management of oversight plans
negotiated change orders
defined comprehensive KPIs and metrics
setup of a fit-for-purpose governance structure
issues are clearly escalated, any actions are communicated to all parties
comprehensive compliance documentation including meeting minutes

meeting scheduling, agenda creation, and alignment with all parties

a comprehensive and tailored oversight model and toolkit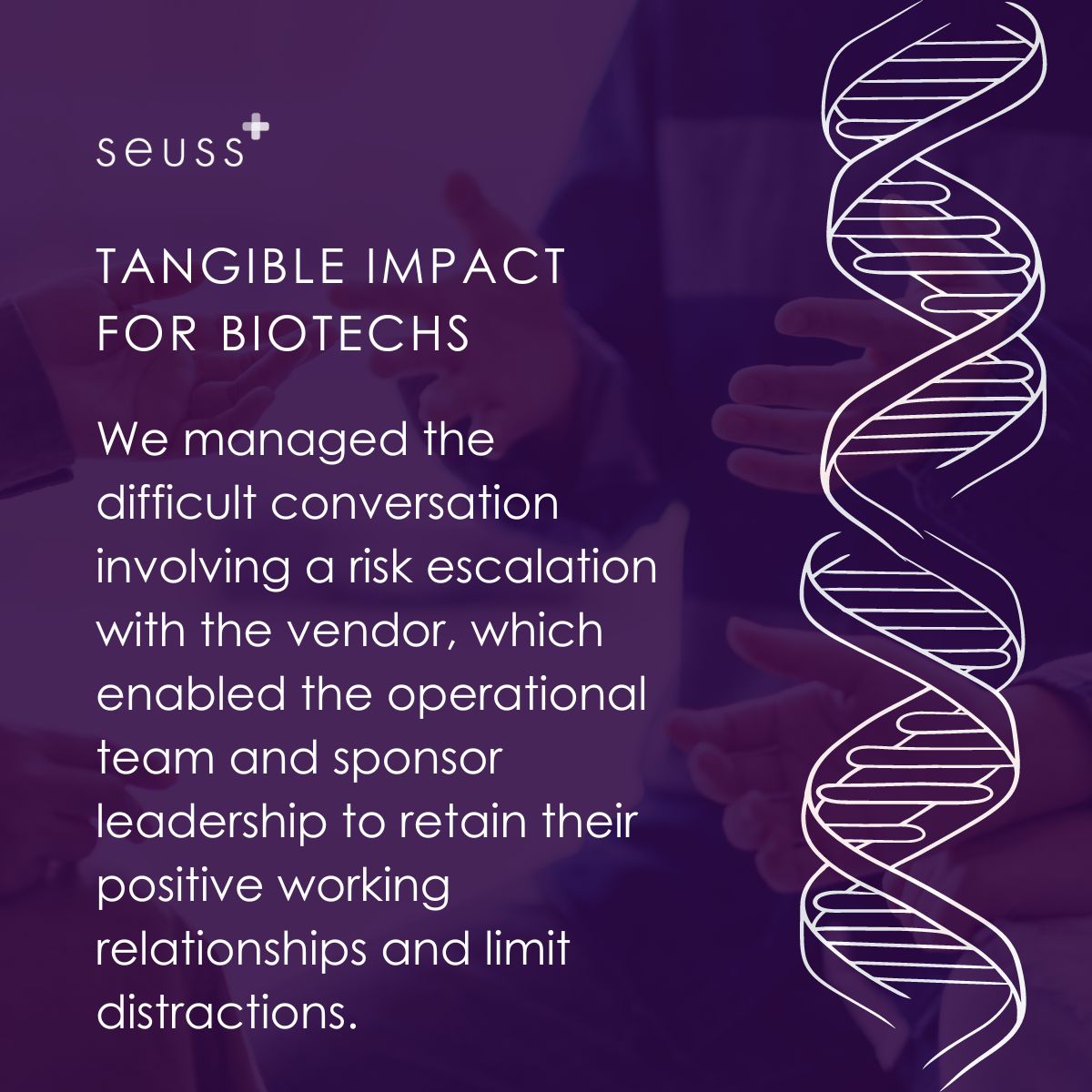 How Our Services Support with Clinical Trial Governance

We have experience helping with the following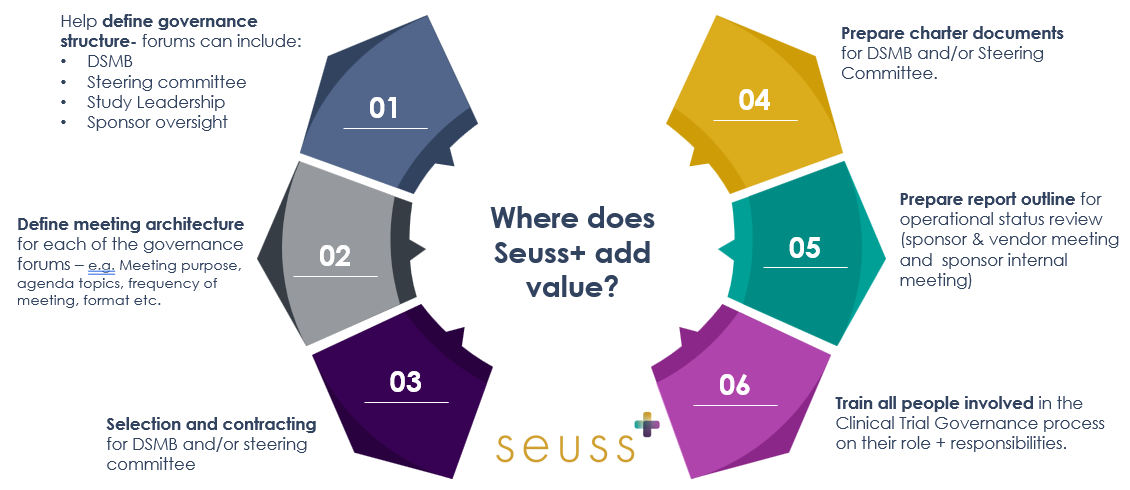 Budget and financial tracker solution for clinical trials
The Seuss+ custom-built financial tracker tool offers a comprehensive solution for your financial management needs, allowing you to quickly visualize the current status (i.e., deviation from forecast) and the evolution of actuals vs forecast throughout the study. With the fully automated dashboard, you can quickly visualize any anomalies (i.e. delayed payments or significant deviation from the forecast). Not only do we build the tool, but we can implement and perform monthly data entry and maintain the tool for you. We can also train your team on how to use it.
The Finance tracker tool is created based on the information reported by the CRO and/or suppliers concerning expected payments and structured to match the format of invoices received to minimize the time needed to update the tracker.​ 
Example features:
Automated and integrated graphs

Forecast tab and dashboards

Tailor made for you

Based in Microsoft Excel

Fully scalable for your organization
Benefits:
Avoid derailing your poduct development process
Accurately track program finances
Manages spend
Enables data-driven decisions
Get control and visibility into the financial status of your clinical trial
Discover How Vendor Management Works
Seuss+ offers comprehensive vendor management services, functioning as a flexible extension of your team. Whether you require immediate assistance or ongoing support, we are dedicated to efficiently managing your critical vendors to meet your needs effectively.
Facilitation
We facilitate the complete process of managing your vendor(s).
Issues and Alignment
Creating a space where overarching commercial issues can be discussed outside of the details of day-to-day operations.
Administration
We focus on supporting you and your vendor(s) by taking care of the administration.
Assessment
We can assess vendor contract performance- comparison to results, analysis of infringements, performance.
Seuss+'s Vendor Management Service provide you with the ongoing support you need to manage your clinical trials vendors. Here are some related services:
Schedule a consultation now