Gain control and get visibility of your finances

using our custom-built financial tool 
Leverage this budget and financial tracker tool and unlock new ways to keep your clinical trial on track. Learn more about how this tracker can help you avoid derailing your product development process.
Get control and visibility into the financial status of your clinical trials
We all know that managing funding and being accountable to your board are essential aspects of the drug development process. This is why we support life science companies to implement a customized budget and tracking tool that helps you to accurately track program finances, manage spend, and make data-driven decisions.
The Seuss+ custom financial tracker is tailor-made, just for you, in Microsoft Excel and is fully scalable to adapt to your growing needs. it can contain as many suppliers as would be useful for your own organization.

Progression Charts
We build and deliver a Microsoft Excel-based budget and finance tool that includes integrated charts and dashboards.

A Tool For a Team
Not only do we build the tool, but we can implement, perform monthly data entry, and maintain the tool for you. We can also train your team on how to use it.

Tracking Invoices
Fully built for your company, this financial tracker is created based on the exact kind of invoices that suppliers will deliver. This makes data entry streamlined and efficient​. Data entry is streamlined.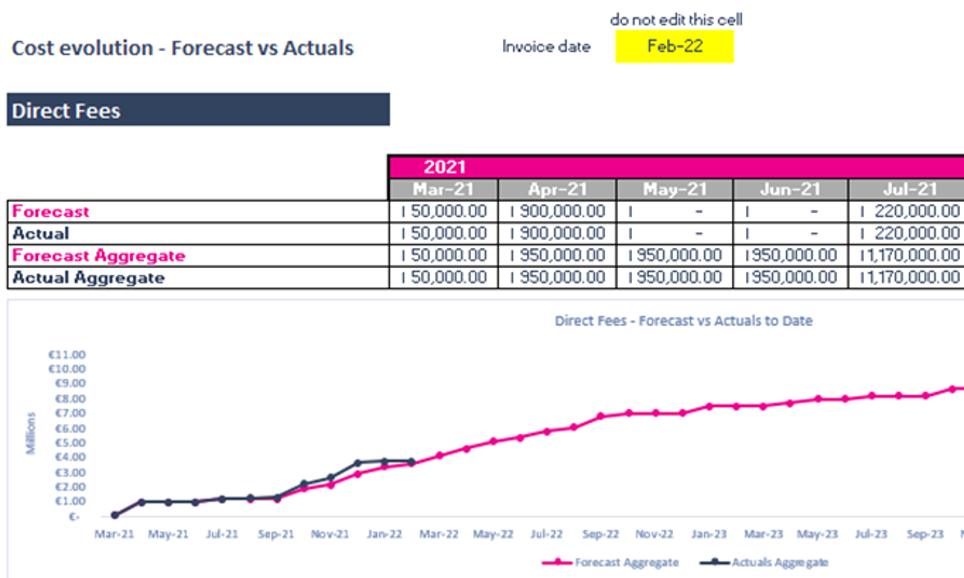 Quickly Visualize
The financial tracker tool allows you to quickly visualize the current status (i.e. deviation from forecast), and the evolution of actuals vs forecast throughout the study:
With the fully automated dashboard, you can quickly visualize any anomalies (i.e. delayed payments or significant deviation from the forecast).
Some examples of features you get are:
automated graphs showing the evolution of actuals vs forecasts throughout the study. These are useful for reports (i.e. to the board).
a forecast tab showing the expected payments throughout the study. 
The Finance tracker tool is created based on the information reported by the CRO and/or suppliers concerning expected payments, and structured to match the format of invoices received to minimise the time needed to update the tracker.​
Why work with Seuss+
We fully support you by creating and implementing a tailored budget tracking tool that allows you to accurately track program finances and successfully drive your product development and clinical trials.

We Bring Tailored Solutions
We create future-proof tailored solutions for your company so you can achieve and exceed your business goals.

Life Science Experts
We bring an experienced team and a flexible approach with the unwavering goal of uniting our people to positively impact the world of life sciences.

Trusted Partnerships
Everyone at Seuss+ is energized by working shoulder-to-shoulder with your team. We can't wait to partner with your company to help you succeed. 
Schedule a consultation or demo now