We want to congratulate our very own Director of Group Services, Susan Braakman, on receiving the HBA Volunteer Spark Award!
The Healthcare Business Women's Association Is a global non-profit organization dedicated to gender parity In leadership. They facilitate career and business connections and enable organizations within the healthcare industry to truly take advantage of their female talent, a topic near and dear to Susan's heart.
Leading By Example
Susan has been volunteering with the HBA since 2017, sharing her knowledge and life science industry insights; more recently, Susan joined the mentoring team who are developing the HBA mentoring program, leading webinars and helping to create content.
Her leadership and network engagement skills have played a vital role in expanding the HBA mentor network. Susan has helped 10 new mentors join the HBA program.
We want to congratulate Susan on her award and know a little more about her passion for the HBA.
What is the HBA?
The Healthcare Businesswomen's Association is passionate about the impact of women in health. They want to help women advance in the industry and help organizations encourage and build and develop their internal talent development programs to achieve excellent business results.
What do the HBA and the Award mean to you?
It is an excellent way to network amongst female business professionals in the healthcare sector, with the opportunity to expand and deepen my network amongst a wide variety of individuals.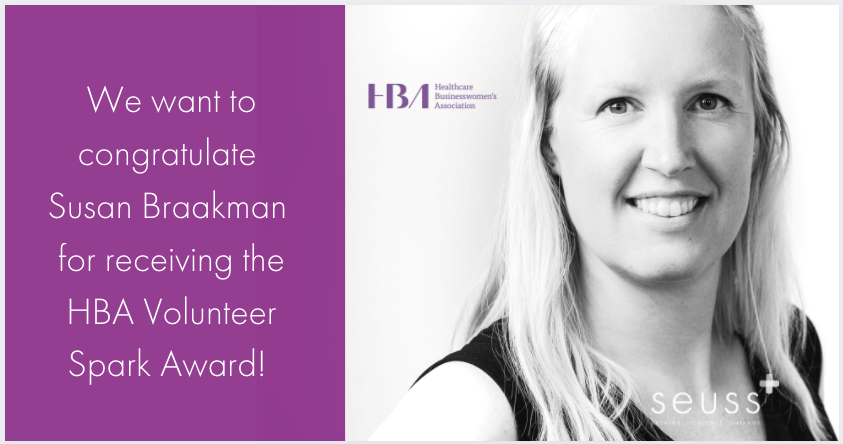 A lot of functions & companies are represented and are giving more insight into the sector. I can share my knowledge and learn a lot about current challenges in the industry, for example,  the current pandemic and how to manage the uncertain climate. Receiving the award motivates me to continue the work I do.
I love to mentor others and share my knowledge. But it is always lovely to be acknowledged and to know you are appreciated.
And what does this mean for Seuss+?
I like to believe that not only me but also Seuss+ contributed to winning the award. At Seuss+, we want to show that we care about the healthcare industry, support our businesswomen, and contribute to achieving gender equality and parity. We don't hesitate to walk that extra mile.
Congratulations again, Susan, for winning this well-deserved award. Seuss+ is proud of you and your achievement, and we can't think of a more deserving winner.