We're thrilled to announce that Seuss+ will present at this year's Bio-Europe event in the vibrant city of Munich, Germany, from November 6th to 8th, 2023. Bio-Europe is not just an event; it's your gateway to the global biopharma community.
Meet the Seuss+ team attending Bio-Europe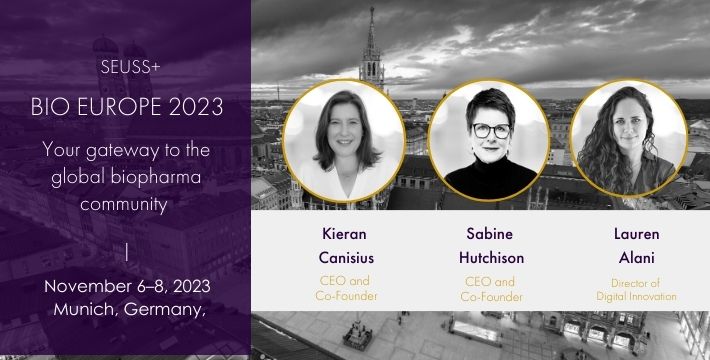 Seuss+ CEOs and Co-Founders Sabine Hutchison and Kieran Canisius will be in attendance alongside Director of Digital Innovation Lauren Alani. This is a unique opportunity to connect with our team and gain insights from their deep expertise in life sciences consulting.
Visit Our Bio-Europe 2023 booth 276 at B5
Don't miss the opportunity to visit the Seuss+ Booth located at 276, B5. Our booth will be a hub of activity where you can engage with our team, discover out latest insights, and explore potential collaborations. Whether your interested in partnering, advancing your clinical trials, or networking with other biotech pharma professionals in Europe, our team of experts will be on hand to discuss and uncover how we can work together and achieve your unique goals.
"I'm really looking forward to Bio-Europe this year because it's a fantastic opportunity to dive into the latest innovations, connect with industry leaders, and share insights that can make a significant impact in the biotech industry." – Sabine Hutchison
Why Bio-Europe?
Bio-Europe is the premier meeting place for key biotech and pharma leaders from around the world. With over 5,500 attendees from 60 countries and representing 2,220+ companies, it's the industry's largest gathering in Europe. Whether you're a seasoned industry expert or a newcomer, Bio-Europe provides a unique opportunity to connect with like-minded professionals, discover emerging trends, and explore potential collaborations.
Expect three days packed with networking opportunities, insightful discussions, and the chance to meet leaders and innovators in the biopharma field. Our team will be on the ground, ready to engage with you, share our expertise, and explore how we can work together to drive innovation and success at your global life science organization.
"It's exciting to see that Artificial Intelligence is included a couple of times in the agenda. I'm looking to connect with sponsors who are inspired by this type of technology and would like to learn more about how their clinical trials can benefit from digital innovations and also from the available features and capabilities in their eClinical system." – Lauren Alani
Let's connect
We invite you to join us at Bio-Europe 2023 and be part of this dynamic event. We can't wait to connect with you and explore the possibilities of collaborating for a brighter future.
Find us in the ParterningOne platform or send us a meeting invitation here or Schedule a call today