An Exceptional career awaits
We're searching for a motivated and driven Business Consultant passionate about helping life science organizations solve issues, maximize growth, and improve business performance.  
If you enjoy leading the conversation, autonomy in problem-solving, influencing impactful results, and have 2-4 years previous consulting experience, this is the role for you. 
Location: Amsterdam (remote work is possible)
Contract type: Permanent
Work for a

n Organization that

Recognizes Your

Talents & Skills
Seuss+ is a creative, hands-on, and collaborative consulting firm proudly serving the life sciences industry.  
As a Seuss+ Business Consultant, you will form a central part of the consulting team, helping life science organizations cope with challenges, maximize growth, and improve business performance.    
You will confidently support clients in planning and delivering multiple simultaneous client projects, ensuring clear communication and coordination while successfully conducting analysis and creating impactful output for consulting projects. 
Are you naturally curious? Do you like to ask questions and unravel challenges? 
The Business Consultant position is ideal for someone who thrives in a creative, fast-paced, and innovative environment; if you're able to quickly translate and generate ideas into practical and time-sensitive solutions, this is the role for you.
Showcase Your

Innovative Skills to Drive Change

 
Our Business Consultants explore new frontiers and strive to achieve results with the big picture in mind. Innovative and creative, they have the ability to stay focused on results despite changing conditions. This is the key to success in this role. 
Features

of the role

include: 
Project Management to assure quality project delivery within timelines and budget.

 

Involving the team (internal and client) throughout the whole work process with a high level of clear communication.

 

Strong analytical skills to turn information into recommendations.

 

Deeply understanding the business: partnering with clients to uncover unmet needs related to growth and expansion.

 
Building strong relationships and being an influencer: developing strong cross-functional partnerships. 

 

Working at a faster than average pace in a changing environment.

 

Very detail oriented.

 

Efficiency is of utmost importance.

 
Your Natural Strengths and Drivers
This position is the perfect fit for you if you have been described as a self-starter, innovator, or big-picture thinker. Do you enjoy acting independently, engaging with a sense of urgency and have the confidence to handle a variety of challenges? Your full commitment to the success of the business and high standards of achievement are expected in this position. 
Bachelor or Master Degree in life sciences is preferred, alternatively Organizational Psychology or a Business related study?

2-4 years of previous consulting experience?

Passion about the life science industry?

 

Detail-oriented mindset?

 

Entrepreneurial spirit?

 

Legal right to live and work in the Netherlands?

 

Excellent written and spoken English language skills?

 

Exceptional organizational skills?
Whether you work in our Amsterdam office or home-based, the Seuss+ team is highly collaborative, hard working, and equally fun. We take our jobs very seriously and have a high-quality standard. We are dedicated to delivering the projects with enthusiasm, professionalism, and fun, and that's why our clients return to us. 
We offer some fantastic perks: Like working remotely to create the perfect life-work balance. We invest in your personal growth by providing in-house training tools to enhance your skills and further build on your unique strenghts. You'll have access to a personal Learning and Development plan and our own Seuss+ Academy digital learning platform.  
We take care of our people by genuinely looking at what you need in your work environment, supported by a behavioral assessment, and lots more. 
If these are your drivers, and you would like to learn more, we would welcome a conversation to discuss this exciting role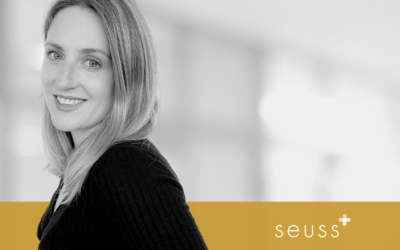 I'm Laura, Seuss+ Marketing Associate for Talent  I've always been in love with storytelling, so naturally, when I discovered the positive impact it can have on organizational growth, I ventured headfirst into the world of brand building and copywriting.  My journey...
read more