"In the world of life sciences, playing even a small part in the advancement of science and human development can impact the world; that notion has always fascinated me."
Kieran Canisius, co-founder & CEO of Seuss+, about the impact of vendor selection in the life sciences:
Over the years, I have noticed a lot of people who approach vendor selection in the life sciences as an exercise to cross this step off the list and get into the work of the actual clinical trial. Instead, we should view vendor selection as a critical opportunity to step back and gauge the holistic impact or risks suppliers can have to help us bring products to the market that improve patients' lives.
Years of experience have taught me that the success of almost every project begins with identifying the involved parties and assessing their strengths and gaps. In my line of work in drug development, this means the critical moment happens during vendor selection, which is why I am so passionate about ensuring that this phase is transparent, honest and as clear as possible.
Choosing ill-fitting partners to help you reach unarticulated goals is like starting a hike with only one shoe on. No matter what trail you take, you're at best going to achieve an acceptable destination but in a lot of pain, or worse you may never arrive at all.
In this analogy, "painful" has become the norm in supplier and sponsor relationships oftentimes because of a lack of expectation management or transparent capabilities. That's what Seuss+ was created to fix. To improve the ways growing biotech and pharma companies choose vendors to solve their life science needs. After all, as I'll explain, selecting suitable partners can make or break your drug development.
How Life Science Vendor Selection is Broken
I had been working on supplier organizations for some time when I was struck with the realization that there was a problem, a glaring underlying issue with the majority of outsourced relationships in the life sciences. There was frequently a mismatch between those in need of services – biotechs, pharma companies, and sponsors – and the sellers of auxiliary life science services. I saw companies (buyers) struggling to articulate their precise issues and CROs (sellers) closing deals without knowing the specifics, naively trusting the notion that as they offered all services, surely they could handle it.
Experiencing this first-hand planted a seed, even before Seuss+ became an idea. I knew then that the success of whatever outsourced relationship between whatever suppliers, like CROs or clinical research organizations and their sponsor, begins by articulating the exact nature of the problem in need of solving. It all starts with that. And if the buyer cannot clearly describe the issue in need of fixing, suppliers will start out failing.
Getting vendor selection right boils down to gaining clarity about the sponsor's goals and needs while also uncovering the suppliers' true strengths, weaknesses, and available capacity.
It's all about doing your research and finding out who is best suited to solve your problem. Different suppliers bring different strengths to the table. Then it's up to the other side to identify who will get you through that journey. They will not be perfect, but they will be best suited for your project.
Remember, there is no perfect CRO; "perfect" simply doesn't exist.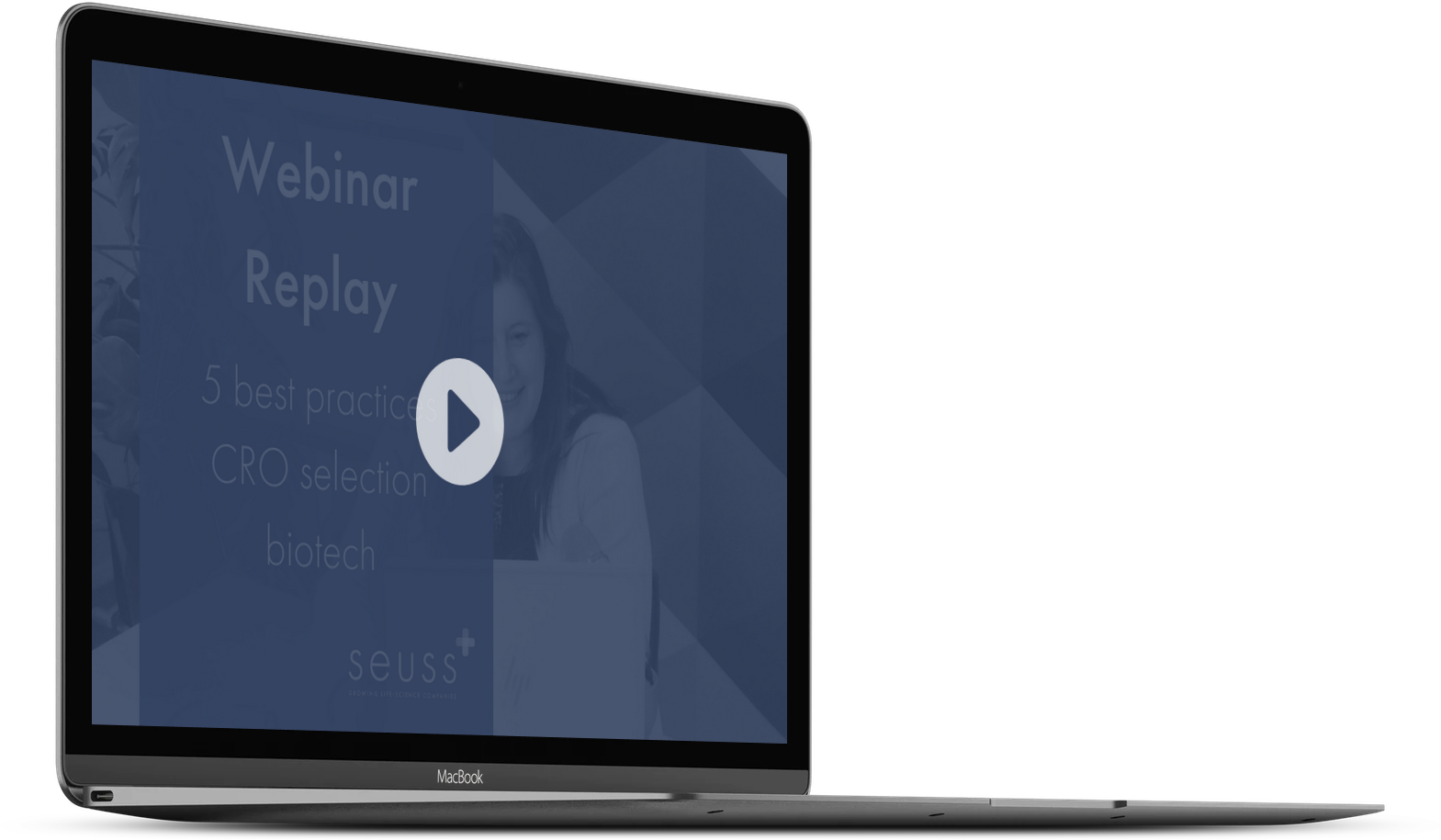 Webinar Replay: 5 best practices in CRO selection for biotech
Watch the free webinar replay and discover the 5 best practices of how to select the optimal CRO for your clinical trial success.
Why Vendor Selection Matters for Patient and Product Outcomes
I studied health economics, so no, I'm not a scientist. But life science consultants like me are very involved in getting new medicines to patients. How? We find the right partner for our biotech clients: a partner that can help them bring their assays through the pipeline, transform and grow their organization to the next inflection point and move treatments to the next stage of clinical development. It may be the closest we get to the science; nonetheless, it's crucial to the development and delivery of new treatments.
Sure, we are busy requesting proposals, comparing budgets, setting up meetings and information-sharing mechanisms, and so on. But at the end of the day, we work to markedly improve patient outcomes.
I'm extremely proud that we work with gene and cell therapy companies, rare disease companies, and the ones that focus on mainstream asthma. Those projects make it clear that we have a much larger societal impact than one might initially assume. The bigger picture of our work is to ultimately improve therapeutic options and patient health.
Perhaps I can share my excitement more effectively by mentioning a few additional client products and therapies to which Seuss+ contributes.
For instance, it fills me with immense pride that one of our current client's nanotechnologies is being assessed to prevent blindness. I think it's incredible that our work can result in even just one person holding on to the gift of sight. If you think about it, a single patient could perhaps only participate in a clinical trial because we got the right partner selected and the study initiated in time for them to be included. And if the trials we work on are proven to be safe and have efficacy, potentially thousands of people will be helped by our work. That thought, that makes me truly proud.
Another example involves working with a company in Phase III trials for their asthma treatment. This product is nearly ready to go to market and has the potential to help millions of people's respiratory health. We don't invent or build the inhaler, we don't test it, and we don't fund it. Yet, we still play a crucial role in enabling peoples' access to these life-saving and life-improving medicines. The impact is so much greater than any one realizes.
The Business Side of Science
Given what I'd personally witnessed going wrong in vendor selection in clinical research, Sabine and I started Seuss+ to tackle this issue. I believe the best way to help make such matches, and make them work, is to be situated outside the supplier and sponsor 'tribes.'
Selecting vendors, you have to be confident asking each side difficult questions about complex topics to identify strengths and weaknesses and priorities and constraints. At Seuss+, we don't belong to either camp and that allows us to truly see with objectiveness.
And I treasure that conundrum, being outside both camps. I love that it's difficult, it's complex, that it's not an easy place to be.
And that is, in part, where my love of what we do with vendor selection, contract management, vendor management, and risk management comes from. It's the business side of science. And it's a simple truth that you need that business side to make sure that a new product or medicine ever gets to the patients who need it.
Nowadays, many vendor selection projects are underway here at Seuss+, led by different staff members because our consultants can sense the broader impact of the 'business side of science.' And while the day-to-day tasks involved with vendor selection don't always feel so high-value, the fact that you're helping the head of clinical development to decide on one partner over another is fantastic. It's big work, and our team knows it.
Our successes also boil down to how we work together within Seuss+. We consider the different strengths of each team member and combine them to form the best grouping for a particular client's specific governance, risk management, or contract negotiation needs. Just as there is no perfect CRO, there is no perfect team – it's about being conscious of what we're good at and what we're less good at. And at Seuss+, we think we're good at vendor selection. Why? Because we are devoted to it.
Find more information about vendor selection for biotechs and clinical trials in the following blogs:
Let us help you with your life science vendor selection
We'd love to get to know you and your business. We are ready to answer your questions and start tackling your business challenges. Download our flyer today and you'll  discover:
How we can help
How we work
What makes us unique
The impact you can expect
How to book a complementary intro call with a consultant
.. and more!