Marketing Communications Internship 
All-Round Marketing Intern
A fast-paced and challenging 6-month Marketing Communications Internship position where you'll learn the tricks of the marketing trade as a fully immersed team member, collaborating on multiple projects and independently running your own.  
Location: Amsterdam (remote work is possible)
Contract type: Time commitment: full-time internship, 4-6 months
This role is only open for candidates that are CURRENTLY in a study in the Netherlands with a Dutch university and are looking for an internship as part of their study.
You'll collaborate closely with the Marketing Team and support all areas of the business. 
Are you ready to join a dynamic team of focused, hands-on, collaborative marketers, who will support your growth and marketing experience exposure? 
Let's get specific and look at some of the tasks you'll be involved with or manage: 
Creating website landing pages on WordPress.

 

Content, blog, keyword, project, RFI and client research

 

Writing creative content with the right SEO keywords

.

 

Copywriting

 

Developing new creative ideas to generate more leads

.

 

Creative visual design in Canva

for internal and external uses 

 

Power

P

oint presentation creation and support

.

 

Systems and process improvement

.

 

Using prominent tools to collect and analyze data

.

 

Creation of event communication and marketing tactics

 

Event coordination

 

Press outreach and list building

 

Social media publishing schedules and postings

 

Creating newsletters

 

Support the team in ad hoc marketing activities

 
How the Marketing Team works
The Marketing Team works with the Scrum architecture; you'll be given full training and onboarding but will be expected to work within this methodology.
Scrum is a simple, lightweight, iterative process for project management, a framework that boosts transparency and adaptability. It makes it easier for each team member to return high-quality results consistently. 
You get to be a core member of a driven, passionate, entrepreneurial, and energetic international team of professionals

 

Develop skills vitally important in today's fast-paced work environment including analytical skills, team-based interaction, goal setting and strategic planning, listening and organizational skills, among others

 

One-on-one coaching and mentoring 

 

Own projects to work on independently and in teams

 

Internship compensation

 
Are you available for at least 6 months, 4-5 days a week?
Are you a college student or graduate in Marketing, Communications, Business, Public Relations, or any related field?
Do you have knowledge of Microsoft Office Suite?
Do you have an excellent command of the English language?
Are you a self-starter and have a natural sense of responsibility?
Have experience writing creative and convincing content; school experience also counts?
By joining Seuss+ for the Marketing Communications Internship, you will gain strong and diverse experience in a growing business environment where things move fast and multiple projects arise simultaneously. You'll get the chance to work on a variety of projects and brainstorm new ones. Most importantly, you will have the autonomy to work on your ideas and see them through, and at the same time, you will have support, supervision, and encouragement.
Seuss+ is a creative, hands-on, and collaborative consulting firm proudly serving the life sciences industry. Leading by example, we offer a true partnership approach, focusing on your strategic vision to build tailored, integrated, and synergistic solutions that deliver a meaningful impact to biotech organizations.  
We're trusted experts in life science consulting and organizational development. The complexity of the challenge is what drives us, from selecting the right vendors, getting your product to market, recruiting the right team when you are scaling up, and unleashing the full potential of your teams – we support your growth so you can focus on your aspirational goals.  
We believe that playing just a small part in the success of others can contribute to a world of change in life sciences. Let us support you through your next evolution, and let's impact the world together. 
Office Location: Zekeringstraat 7A, 1014BM Amsterdam 
LinkedIn: https://www.linkedin.com/company/10152984 
Contact: Susan Braakman at s.braakman@consultseuss.com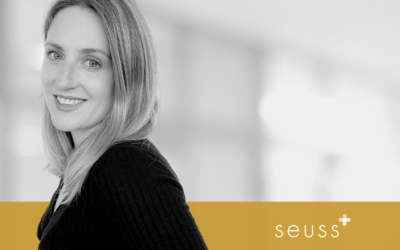 I'm Laura, Seuss+ Marketing Associate for Talent  I've always been in love with storytelling, so naturally, when I discovered the positive impact it can have on organizational growth, I ventured headfirst into the world of brand building and copywriting.  My journey...
read more