Marketing Communications Internship 
Submit an open application our next round of internships start August 2022
Are you an up-and-coming marketer who's interested in testing and growing your skillset in a fast-growing international environment? We are looking for you! Here at Seuss+, we are searching for a Marketing Communications Intern who's ready to join our team and make a real impact in our projects.
Location: Amsterdam (remote work is possible)
Contract type: Time commitment: full-time internship, 4-6 months
By joining Seuss+, you will gain strong and diverse experience in a growing business environment where things move fast, and multiple projects arise simultaneously. You'll get the chance to work on a variety of projects and brainstorm new ones. Most importantly, you will have the autonomy to work on your ideas and see them through, and at the same time, you will have support, supervision, and encouragement. 
As the Marketing Communications Intern, you will support the Seuss+ marketing team in coordinating and implementing multiple marketing and communications projects, including: 
Support in the planning and creation of event communication and marketing tactics

 

Event coordination 

 

Press outreach and list building 

 

Social media publishing schedules and postings

 

Creating newsletters 

 

Blog & content research and drafting

 

Support the team in ad hoc marketing activities

 
You get to be a core member of a driven, passionate, entrepreneurial, and energetic international team of professionals

 

Develop skills vitally important in today's fast-paced work environment including analytical skills, team-based interaction, goal setting and strategic planning, listening and organizational skills, among others

 

One-on-one coaching and mentoring 

 

Own projects to work on independently and in teams

 

Internship compensation

 
College student or graduate in Marketing, Communications, Business, Public Relations, or any related field

 

Good writing and editing skills 

 

Fluent or native in English reading, writing, and speaking (Dutch is not required; any other language is a plus)

 

Knowledge of Microsoft Office Suite

 

A self-starter who enjoys working in a fast-paced team environment 

 

Good communication and collaboration skills

 

Pro-active and takes initiative

 

Professionalism, candor, and a sense of humor under pressure

 
Seuss+ is a creative, hands-on, and collaborative consulting firm proudly serving the life sciences industry. Leading by example, we offer a true partnership approach, focusing on your strategic vision to build tailored, integrated, and synergistic solutions that deliver a meaningful impact to biotech organizations.  
We're trusted experts in life science consulting and organizational development. The complexity of the challenge is what drives us, from selecting the right vendors, getting your product to market, recruiting the right team when you are scaling up, and unleashing the full potential of your teams – we support your growth so you can focus on your aspirational goals.  
We believe that playing just a small part in the success of others can contribute to a world of change in life sciences. Let us support you through your next evolution, and let's impact the world together. 
Office Location: Zekeringstraat 7A, 1014BM Amsterdam 
LinkedIn: https://www.linkedin.com/company/10152984 
Contact: Susan Braakman at s.braakman@consultseuss.com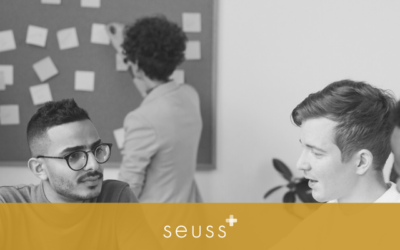 Seuss+ Welcomes Seven New Interns Interns provide an array of valuable perspectives and benefits to an organization; over the years, we've mentored dozens of interns and gained quality talent as many transition into permanent employees. Join us as we welcome seven new...
read more