FREE DOWNLOAD
Discover our training topics and how tailored training programs and workshops drive high-performing teams, accelerate innovation and activate a growth mindset.
Train your employees, teams and executives
Tailored Training Programs
Do you want to empower your team, elevate your managers, overcome inefficiencies, or enhance collaboration? Discover a list of training topics in our brochure.
Leadership Development
Our Leadership Development Program equips your employees across all levels and functions to grow forward and thrive in environments of constant change and uncertainty.
Sales Training Program
Our tailored Sales Training Program increases empathy, engagement, and adaptability – it is the secret weapon to improving your team's sales effectiveness.
Invest in your people to remain competitive
Bite-sized training sessions that fit easily in your busy work schedule

Face-to-face and/or virtually

Upskill and unify your team and managers

Foster a culture of innovation

Excite interest and increase employee engagement

Scale successfully

Inspire collaboration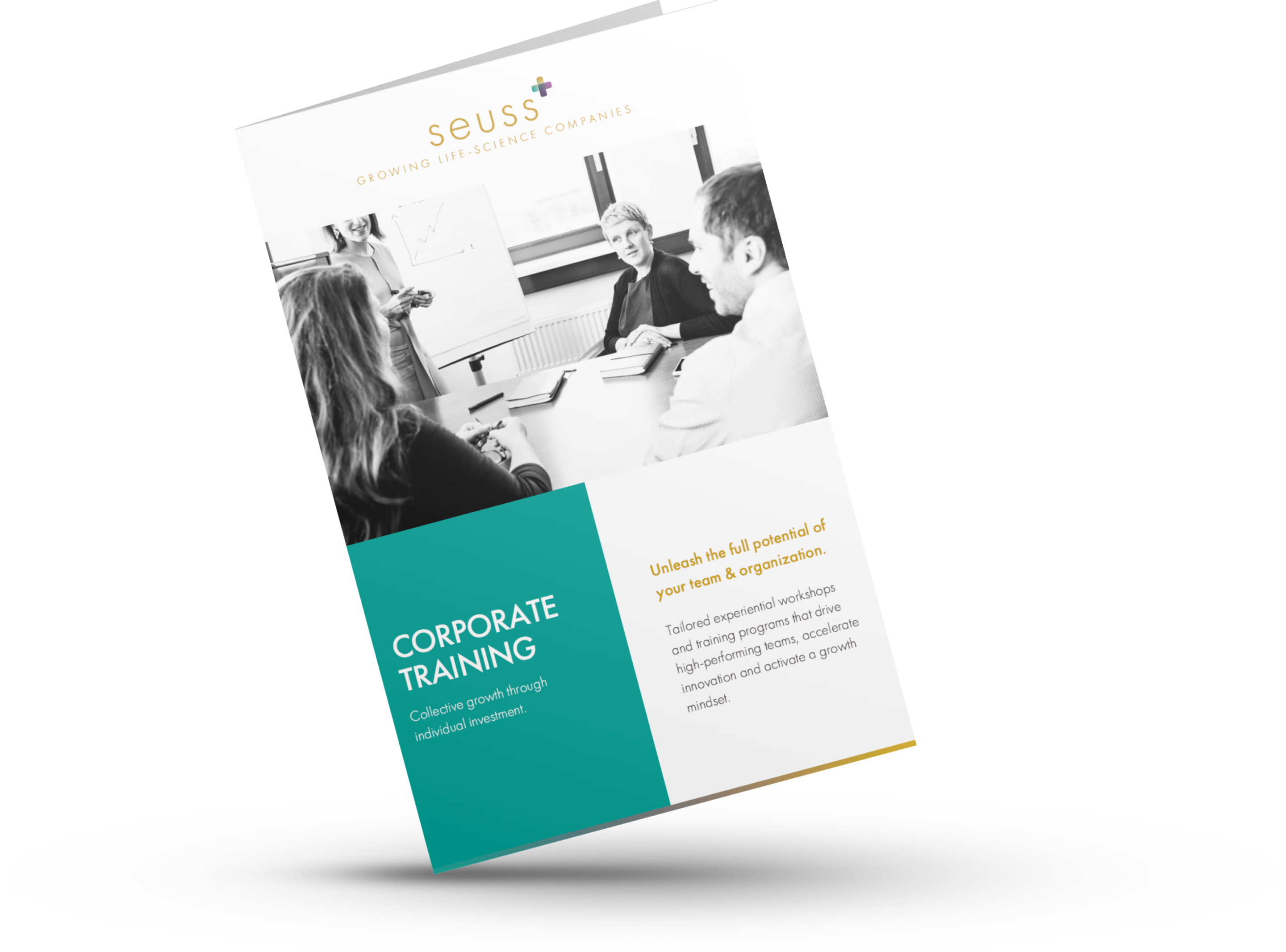 "The team partnered with us on an "Interviewing with Confidence" seminar and 1:1 coaching for our Women's Professional Organization. They strove to build relevant and tailored content, and attendees appreciated their dynamic speaking style and practical exercises. The event was one of the highest rated of the year. It was a pleasure working with the team!"
– VP of Product Strategy,
International Pharmaceutical
"I have involved the Seuss+ team in the development of my business developers over the last 12 months. Their ability to understand each individual and tailor their coaching advice has been of great benefit for the individuals concerned and the team as a whole. Having Seuss+ as part of my extended team is hugely beneficial in supporting the growth of the team."
– SVP Business Development,
CRO
"Sabine Hutchison is a very talented and result-driven professional with a high level of energy and enthusiasm. She has a natural talent to motivate others; people managed by her will perform to their maximum and enjoy the work they do. When given a true challenge, Sabine performs outstanding."
– Chief Operating Officer,
Specialty Supplier
DOWNLOAD NOW
Corporate Training Brochure