Here is what you'll learn
Why is it important to have a personal brand?
You'll see the impact this training has, not only for companies and entrepreneurs, but also for every individual. We'll explain the importance of working towards a defined personal brand through practical examples. 
How to identify and build your personal brand
Your personal brand is the image you give to the rest of the world. Defining it is a key and impactful strategy in your career. You'll learn the best traits to use as a base when building your own. 
How to present, communicate, and live your personal brand
You'll learn all the necessary information on how to share with others your personal brand once you've built it. We'll give you tips on how to present it both online and offline. 
How to incorporate your personal brand into your career goals
We'll teach you how to align your own brand to your career goals strategically. These two aspects have a direct connection, and it is crucial to make sure there is a symbiotic relationship between them.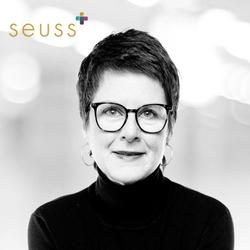 About Sabine Hutchison
CEO
Sabine, the CEO and co-founder of Seuss+, is a trained chemist and industry expert turned entrepreneur with a full roster of speaking engagements and public appearances under her belt. She is passionate about helping life science companies grow, helping businesses and leaders reach their full potential.
As busy as her work as a CEO keeps her, she makes time to volunteer on the board as Chair of the Healthcare Businesswomen's Association, Europe Chapter.
Interested to speaking with one of our life science consultants? 
At Seuss+, we support, inspire and challenge each other every day. No matter the project, client or task, together, we'll boldly tackle our industries biggest challenges.