Right now, a global pandemic is turning entire countries – entire continents – on their heads. And the whole world is looking to the life-science community for leadership.
At the same time, the restrictions on public life and interpersonal contact imposed by this pandemic make it harder than ever to do our work. The spread of COVID-19 is disrupting clinical trials globally, while the demand for clinical research professionals (CRPs), which already exceeded the supply, is skyrocketing. So, how do you continue recruiting talent while social distancing?
We're facing an escalating personnel shortage at a time when we need personnel more than ever. But how do you hire when you can't shake a candidate's hand, when your ideal candidates are self-isolating? We can't afford a hiring freeze right now, but how do we step up as industry leaders in the wake of the biggest medical crisis of our lifetimes?
The Exploding Demand for Clinical Professionals
As of October 2019, there were about 318,901 clinical studies registered globally – more than 100 times the 2,119 clinical studies registered just 20 years ago, in 2000. And, current crisis aside, the sector is expected to grow by 5.4% annually, outpacing global GDP. Add to that an aging workforce – 80% of talent leaders in the industry say Baby Boomers retiring will have a big impact on their organizations this year – further increasing hiring needs.
Now, of course, the emergence of a novel, deadly, and quickly spreading virus has added yet more urgent new work to the pile, requiring even larger numbers of clinical professionals. Thanks to COVID-19, the gap between the demand for and supply of qualified professionals is only expected to grow.
Recruiting the right professionals is, at this moment, more important than ever. More difficult than ever, too, thanks to the current need for social distancing and self-isolation.
Novel challenges demand novel solutions. So let's tackle these new hiring challenges for CROs and pharmaceutical companies, one at a time.
Challenge #1: Finding Qualified Talent
Jobs in the life-science industry tend to require highly technical knowledge and direct role experience. This narrows the recruitment pool.
I like to think of hiring new staff like buying a house. The first step in finding the right new home (or professional team member) is to ask, "What is my house (team) missing now?"
When house hunting, you might decide you need more storage space, more rooms, etc. Similarly, when hunting to hire, you're looking for the things your team is currently missing. A particular skill set or expertise, for example.
You need to first understand what existing problem your new hire needs to solve before you can find the right person to solve it. I learned in the past, if the new hire doesn't solve the problem you hired them for, you end up with two problems.
You not only need to understand what problem you need to solve, but also determine how this problem should, ideally, be solved. When hiring, you need to sit down with your team, HR, department heads, and other relevant stakeholders to determine the requirements for the new hire. What you need from this person to solve the problem your business is facing. Their necessary skills, experience, and education.
COVID-19, of course, adds an extra kink: how do you find the person who meets these requirements, when the talent you are looking for is likely isolated at home? This brings us to recruiting talent while social distancing…
The Solution
First, look at your own team. Can you recruit from within, from the people already on your payroll? Is there someone with promising talent who meets almost all of your requirements? The talent you already know is often a safer bet, as you already know they fit the company culture, and gaps in specific knowledge or experience can often be closed through training.
This is why we urge you to A.B.T: Always Be Training. Give your staff the opportunities to learn new information and skills as often as possible, and you will likely find that they can later solve problems you don't yet realize you have.
However, sometimes you need to look a little further to find fresh talent that meets your needs. This brings us to…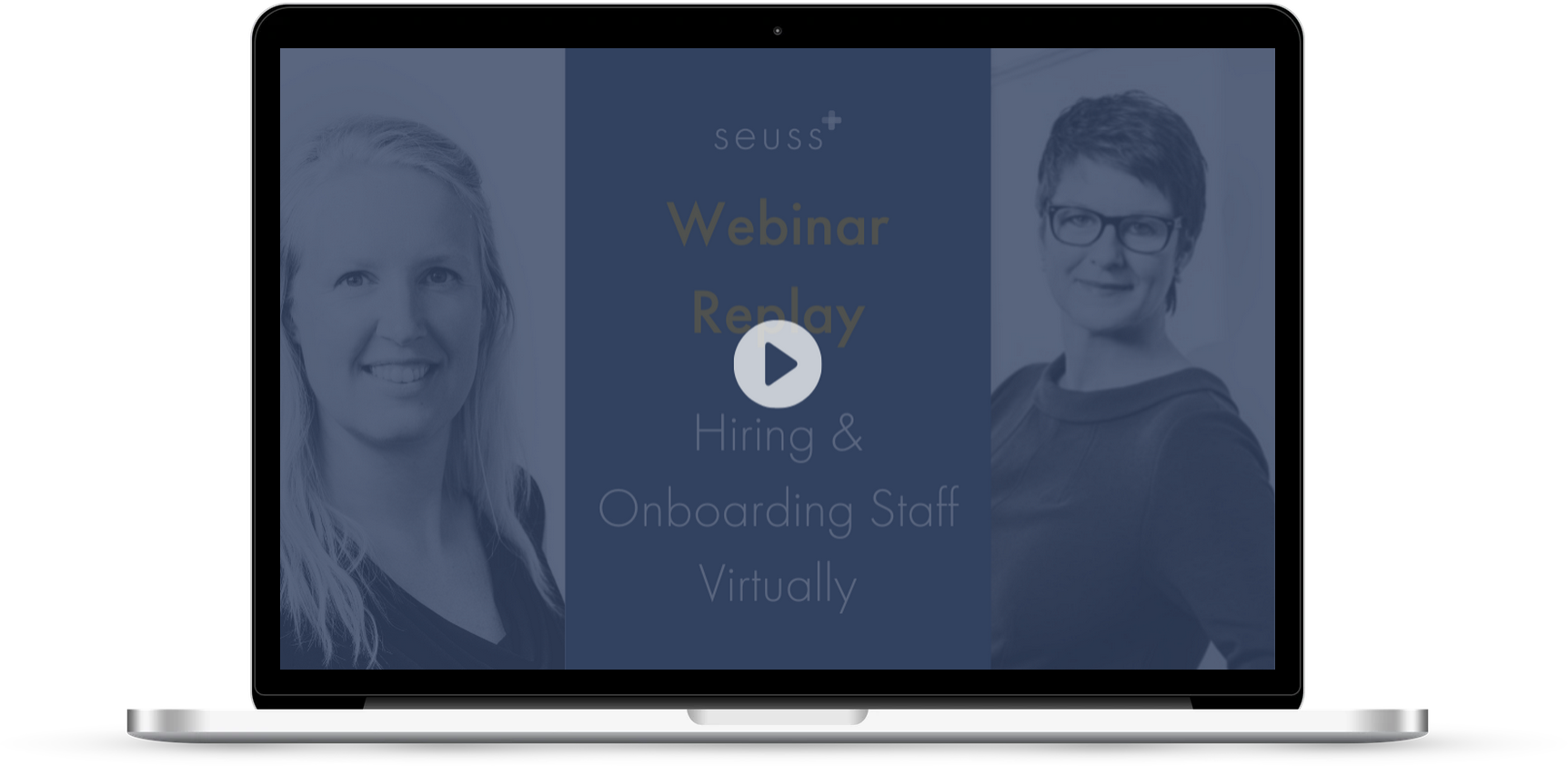 Webinar replay: hiring and onboarding staff virtually
Watch this free webinar replay and gain practical tips and tricks to decide whether it is the right time to hire, recruiting virtually, and how to create a great new-hire experience from a distance.
Challenge #2: Recruiting Remotely
Social distancing and recruiting don't have to be natural enemies. We're lucky enough today to live in a virtually well-equipped world. As many of your social and work engagements are likely moving online, so should your hiring efforts, too.
Online recruitment is nothing new. Talent acquisition was already transitioning toward a (partially) virtual assessment process. The coronavirus pandemic has merely sped up this process.
However, not all companies have developed a sustainable online recruitment methodology. These companies need to learn to sort through the large numbers of online applications, to efficiently separate the qualified candidates from those who aren't. Expanding your search to the virtual world, beyond your immediate geographic area, makes that pile of online applications even larger and trickier to parse.
The Solution
To find the candidate who meets your niche needs, you're likely going to need to either expand your network or outsource your recruitment process. Or, more likely, both.
I say: embrace technology. Online talent-management platforms can help you handle a high volume of applications while improving your candidates' experience and reducing time to hire at the same time.
Just remember, no matter how big the candidate pool gets, one thing remains true: just as there is no such thing as an absolutely 100% perfect house, there is no such thing as a completely perfect candidate.
My insider tip: remember that you're likely to find your best match within the first batch of candidates to reach out to you. They are eager and motivated. They make time for the recruitment process and are eager to translate that time into on-the-job efforts once hired.
Don't lose those early candidates by waiting too long, stalling until you've seen them all. Someone might snap up that best-for-you candidate while you're still shopping around.
When you've found the almost-exactly-right person for you, get them on the job solving your problems and training for any gaps in their existing expertise as quickly as you can.
Challenge #3 Higher Compensation Demands
Once you've found your candidate, the next important question becomes: what will it cost? In terms of salary and bonuses, what is realistic, and what is the maximum you can spend?
As the competition for talent gets tighter, the compensation landscape is getting more competitive, too. The base salary for life-science professionals has been growing steadily, with the average salary for the industry now $113,654 per year.
At first glance, larger, better-funded companies seem to have the advantage here. So, how is a smaller company supposed to compete for top talent?
The Solution
First, keep in mind (and make sure your candidate of choice is also aware) that salary is only part of the package. What you might lack in pure financial incentive can be made up for, in part, by the package of benefits you offer alongside that. Healthcare options, remote working options, relocation options, a company car. Or even more importantly: smaller companies can often offer candidates the opportunity to take on more responsibility, learn new skills, and make a larger impact on the overall team.
This financial competition is also another reason to cast your net internally for new candidates. A promotion or job change should come with an adjusted salary to reflect that, but this is likely a more manageable number from the company's point of view.
The key here is to minimize your need to hire by ensuring you can retain the talent you already have. This is where that aforementioned ongoing training comes in handy as well, but also make sure your company is (and remains) a place where people want to work. Where employees feel they have a voice, with coworkers who truly care about them.
The Bottom Line
Finding and attracting the right talent in the life-science industry has always been challenging. And now, the current COVID-19 pandemic is disrupting the already difficult situation.
But there is no need for despair – your company is probably better equipped to handle your new-hire needs during this time than you think.
If you're not sure how to leverage the people and systems you already have in-house to solve your company's hiring needs in the most cost-effective way possible, turn to the experts for a little guidance. We're here to help.
About the Author